Did you know about the amazing benefits of Amaranth?
Amaranth, an ancient grain with a rich history, offers numerous benefits that make it a valuable addition to a healthy diet. Firstly, it is a nutritional powerhouse, packed with essential vitamins, minerals, and antioxidants. It is an excellent source of protein, containing all the essential amino acids. Amaranth is gluten-free and suitable for individuals with celiac disease or gluten sensitivities. It also promotes heart health by lowering cholesterol levels and reducing the risk of cardiovascular diseases. Furthermore, amaranth's high fiber content aids digestion and supports weight management. It possesses anti-inflammatory properties and helps boost the immune system. Lastly, its versatility makes it an excellent ingredient in various recipes, from porridges and salads to baked goods.
Amaranth Breakfast Porridge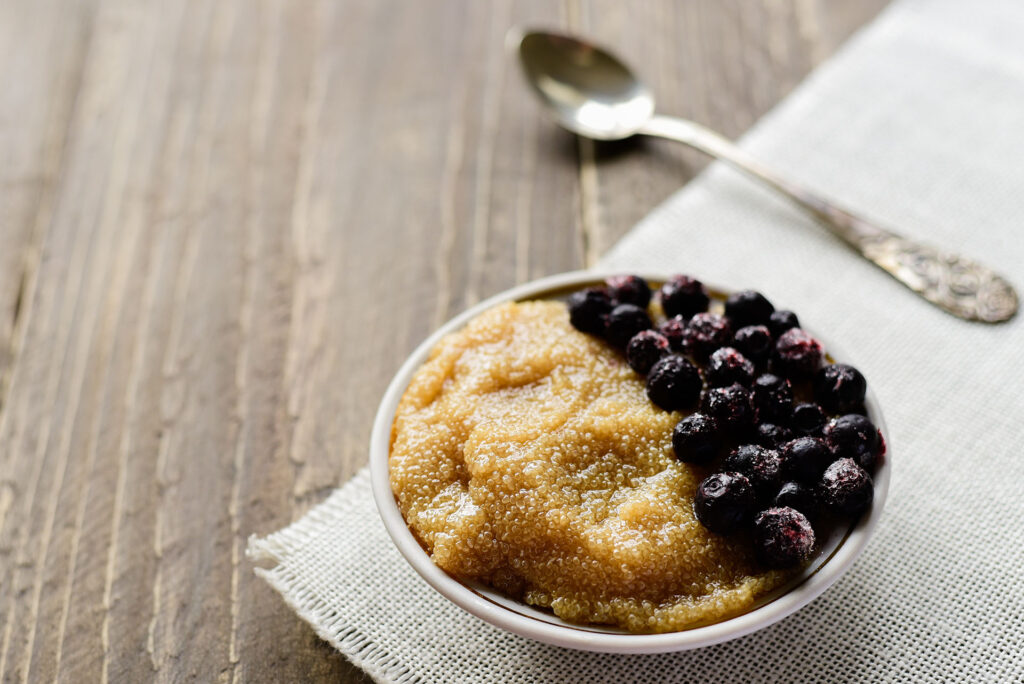 Ingredients:
1/2 cup amaranth grain
1 1/2 cups plant-based milk (such as almond milk or coconut milk)
1 tablespoon maple syrup or sweetener of choice
1/4 teaspoon vanilla extract
Toppings: Fresh fruits, nuts, seeds, or shredded coconut (optional)
Instructions:
Rinse the amaranth grain under cold water to remove any debris.
In a saucepan, combine the rinsed amaranth grain, plant-based milk, maple syrup, and vanilla extract.
Bring the mixture to a boil over medium heat.
Reduce the heat to low and simmer, covered, for about 20-25 minutes or until the amaranth is tender and the mixture has thickened.
Stir occasionally to prevent sticking to the bottom of the pan.
Remove from heat and let it sit for a few minutes to thicken further.
Serve the porridge in bowls and top with your choice of fresh fruits, nuts, seeds, or shredded coconut. Enjoy a warm and nutritious breakfast!
Amaranth Salad with Roasted Vegetables
Ingredients:
1 cup amaranth grain
2 cups water or vegetable broth
2 cups mixed vegetables (such as bell peppers, zucchini, eggplant, cherry tomatoes)
2 tablespoons olive oil
1 tablespoon balsamic vinegar
1 garlic clove, minced
Salt and pepper to taste
Fresh herbs for garnish (such as basil or parsley)
Instructions:
Preheat your oven to 400°F (200°C).
Rinse the amaranth grain under cold water.
In a saucepan, bring the water or vegetable broth to a boil. Add the rinsed amaranth grain, reduce the heat to low, cover, and simmer for about 20 minutes or until the grains are tender and the liquid is absorbed.
While the amaranth is cooking, prepare the roasted vegetables. Chop the mixed vegetables into bite-sized pieces and place them on a baking sheet.
Drizzle the vegetables with olive oil, balsamic vinegar, minced garlic, salt, and pepper. Toss to coat evenly.
Roast the vegetables in the preheated oven for about 20-25 minutes or until they are tender and slightly caramelized, stirring halfway through.
Once the amaranth and vegetables are cooked, allow them to cool slightly.
In a large bowl, combine the cooked amaranth and roasted vegetables. Toss gently to mix.
Adjust the seasoning if needed and garnish with fresh herbs.
Serve the salad as a light lunch or side dish. It can be enjoyed warm or at room temperature.
These recipes offer a delicious way to incorporate the nutritious amaranth grain into your vegan diet. Enjoy!
Amaranth thalipeeth
Ingredients:
1 cup amaranth flour
1/4 cup finely chopped onions
1/4 cup grated carrots
1/4 cup chopped spinach
1/4 cup chopped coriander leaves
1 green chili, finely chopped (adjust to taste)
1/2 teaspoon cumin seeds
1/2 teaspoon turmeric powder
Salt to taste
Water, as needed
Oil for cooking
Instructions:
In a large mixing bowl, combine the amaranth flour, onions, carrots, spinach, coriander leaves, green chili, cumin seeds, turmeric powder, and salt.
Gradually add water to the mixture while stirring continuously until you get a thick batter-like consistency. The amount of water required may vary, so add it slowly to avoid making the batter too runny.
Heat a non-stick pan or tawa on medium heat and lightly grease it with oil.
Take a small portion of the batter and place it on the heated pan. Use your fingers or a spoon to spread the batter evenly in a circular shape, making it about 1/4-inch thick. You can also make small holes in the thalipeeth to help it cook evenly.
Drizzle a little oil around the edges and on top of the thalipeeth. Cook for a few minutes until the bottom side turns golden brown.
Flip the thalipeeth and cook the other side until it also turns golden brown. Press the thalipeeth gently with a spatula to ensure it is cooked thoroughly.
Remove the cooked thalipeeth from the pan and place it on a serving plate. Repeat the process with the remaining batter to make more thalipeeth.
Serve the vegan amaranth flour thalipeeth hot with coconut chutney, tomato chutney, or any other side dish of your choice.
Pledge to try veg
Sign up to get great tips and recipes