6 Amazing Mock Meat Brands Available in India
2018 is the year of food that not only tastes delicious but is also ethically obtained. India Today has touted 'plant-based dishes' to be the number one food trend that will hit Indian markets in 2018. Even celebrities are taking note of the benefits of  vegan diet. Aside from hearty jackfruit curries and delectable soya kheema, there is another vegan food trend making waves in the culinary circuit, namely mock meat.
Mock meat, also known as meat analogue, faux meat or vegan meat, is a cruelty-free substitute for animal-derived meat. It looks like meat, cooks like meat and tastes like meat but it's healthier, better for the environment and doesn't involve killing any animals. Today, mock meat brands are emerging in India, and are armed with numerous kinds of textured meat. You could literally replace meat in any recipe with mock meat and it will be the same. See which of these are available in your city.
1. Veggie Champ
Ahimsa Foods produces a variety of vegan meat under their brand 'Veggie Champ'. This Delhi-based company produces vegan hot dogs, vegan salami, a vegan Nawabi kabab, vegan satay and an award-winning vegan burger.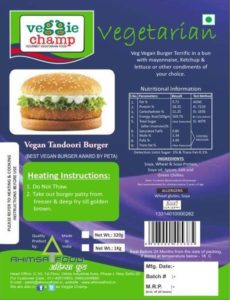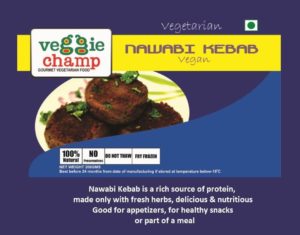 They also have mock duck, mock fish, mock mutton and will soon release their vegan chicken. Aside from imitating meat's texture closely, they also soak up various flavours very well and this creates a tantalizing experience, even for the most dedicated meat lover.
You can find their products in Mumbai, Bangalore, Pune, Delhi and other metro cities. Check out their website: www.ahimsafood.in
2. Good Dot
Mock meat manufacturer Good Dot utilizes the goodness of grains and plant-proteins to create healthy and affordable meat alternatives. The company is based out of Udaipur and they have two products that are currently available – Proteiz and Veg Meat, with Veg Chicken coming soon.
The Veg Meat is quite versatile and works well as an imitation mutton. Try their mouth watering Veg Meat Biryani or Chinese Style Chilli Veg Meat. The Proteiz work well as nuggets. Why don't you treat yourself to Proteiz Pakora this weekend?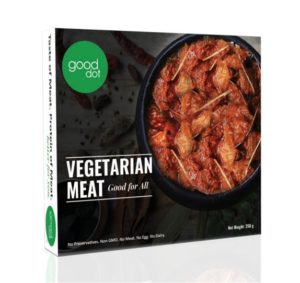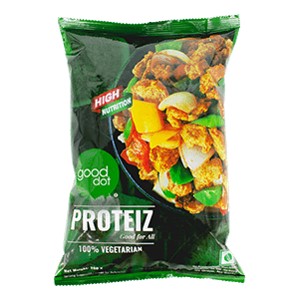 You can get their products anywhere in India by ordering online. (They're also opening food trucks across the country! Cool, right?)
3. Vegeta Gold
Innovative, healthy, tasty and nutritious: these are the words that best describe Vegeta's Gold array of mock meats. The company's registered office is in Tamil Nadu and they have a range of mock meat products, including sausages, fillets and patties, all made out of soya and shiitake mushrooms.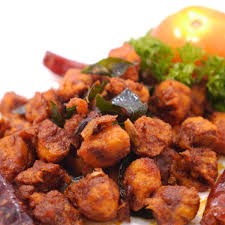 Their roasted 'soyato' tastes excellent in nuggets and cutlets. They can also be used to make the meaty filling for samosas and puffs. You can coat them with breadcrumbs and make soyato 'popcorn'. Or fry them in a paste made out of soya sauce, tomato sauce and chilli to make manchurian balls. You can also make a tasty soyato curry with them. 
This product is available in Chennai, Mumbai, Bengaluru and Delhi. Check out their website for more details.
4.Vezlay
The Delhi based company Vezlay produces a variety of mock meats, including veg chicken, soya bhurji, soya kebabs, burger patties, shawarma, nuggets, chops and mock mutton. Try out their recipe for soya biryani, it's delicious.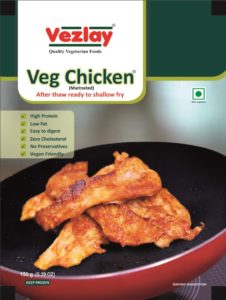 Vezlay products are available in Pune, Delhi, Ahmedabad, Mumbai, Chennai, Kolkata, Bhubaneshwar, Haryana, Rajasthan and Jammu. They are now extending to the Central and Southern parts of India as well.
5. Vegitein
This is a Bengaluru based mock meat company. They make home made vegan sausages and  meat strips. You can fry them and cook them in any way you want. Their Facebook page has photos of customers getting creative with their yummy mock meats.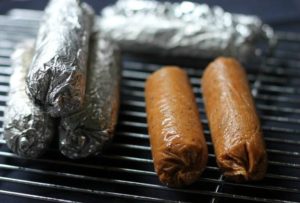 6. Nutrela chunks
Nutrela is probably the 'go-to' mock meat for many new vegans. It's super cheap and widely available. They sell soya chaap, chunks, mini-chunks and soya granules as well.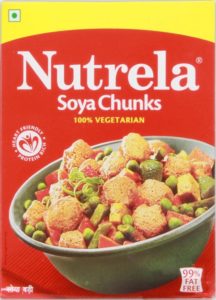 The soya chunks are pretty versatile. They can be used to make a succulent soya biryani or deep fried in batter to make mock-meat filled pakodas. The granules are an excellent substitute for keema. The texture and taste is spot on and it's very easy to cook.
You can order Nutrela's soya chunks online or try your local grocer.
Disclaimer: Some of the companies listed above are not exclusively vegan. We have only listed the products that are suitable for vegans. Please make sure to read the ingredients before you buy any of the products.
Know anyone who could use this list? Then share it with them on Facebook!
Pledge to try veg
Sign up to get great tips and recipes