Korma
Korma is well loved for it's rich, thick and flavourful gravy.
Just add any vegetable of your choice and you have quick dish that's perfect for both a family meal or a party. Or just for yourself, if you feel like having a treat.
Preparation Time: 20 minutes
Ingredients
Steamed vegetables and legumes of your choice (potatoes, carrots, french beans, sweet potato, raw banana, chickpeas, cauliflower, capsicum, peas, broccoli, any other beans)
1/4 cup cashews
1 onion chopped
1 tsp oil (rice bran/ sunflower/ safflower/ canola) (optional)
1/2 tsp cumin seeds/ jeera
1 tsp garam masala
1 tsp ginger garlic paste or 1/2 inch ginger grated and 1 clove of garlic
1 tsp coriander powder
1 bay leaf
2-4 cloves
A dash of cinnamon or some cinnamon sticks
1 cup (200ml) plain unflavoured soy milk
Red chilli powder
Pepper
Salt
Roasted or fried raisins, cashews, almonds
Preparation
In a saucepan, add the chopped onions and cashews to about 1/4 cup water and cook till the onions become translucent and the cashews becomes soft. Put this into a blender and blend it to a smooth paste.
Heat the oil in a pan if using oil or do a dry roast of the spices. Add the cumin seeds, garam masala, ginger garlic, coriander powder, bay leaf and cloves. Let it all blend and then add the cashew-onion paste.
Cook it for a good 5 to 7 mins till it gets thick and starts oozing out the oil. At this point add about half cup of water and add the capsicum and green peas. Let it come to one boil and assimilate.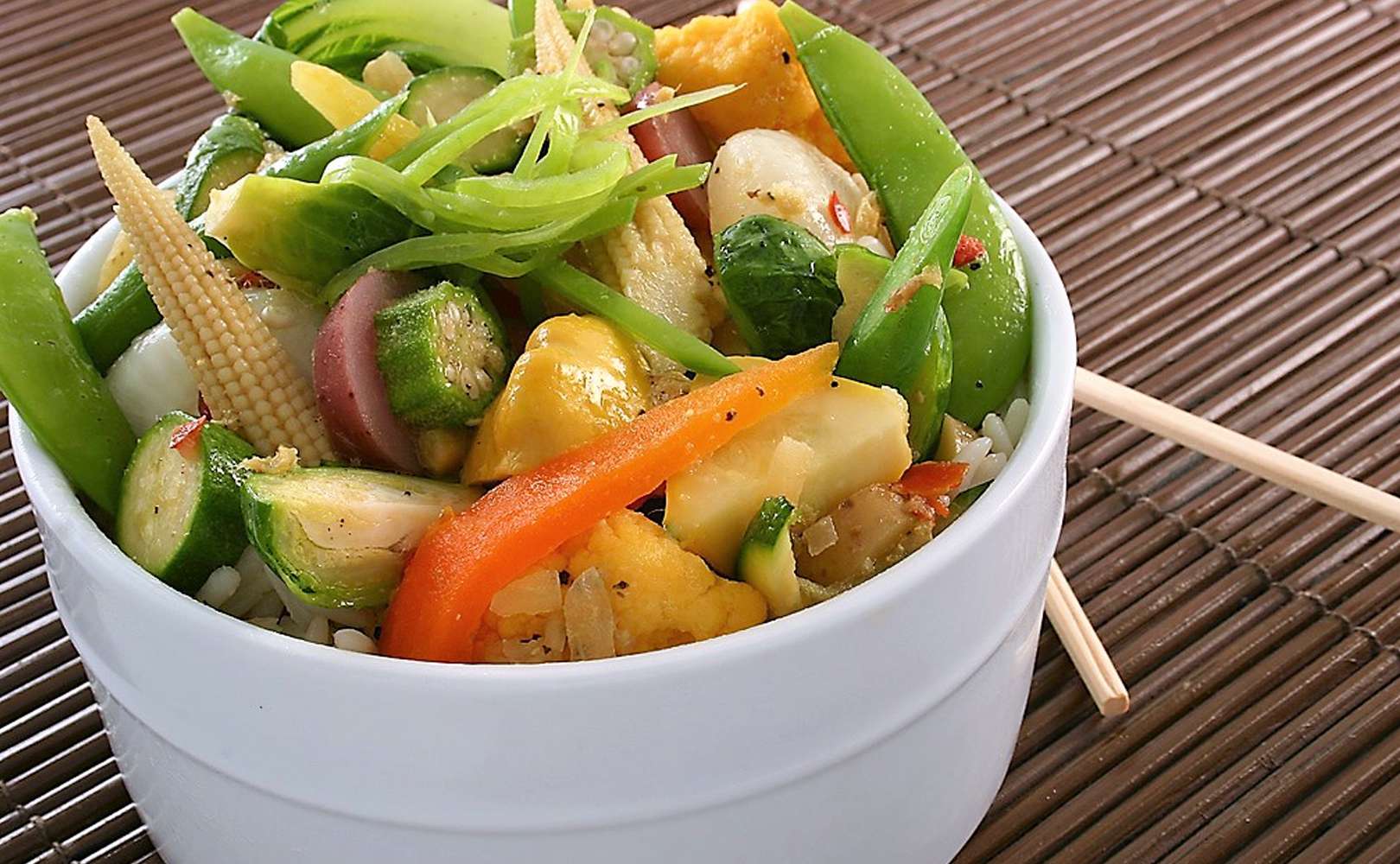 Add the rest of the steamed vegetables and 1 cup of soy milk. Also add in the salt, cinnamon and red chilli powders.
Cover it and let it simmer for 10 minutes on a low flame. Add the pepper and stir it well. Add the raisins, cashews and almonds on top.
Serve hot with plain or flavoured rice, rotis or parathas.
Pledge to try veg
Sign up to get great tips and recipes