Plant- based recipes for Diwali
October 22nd, 2022
Diwali is an auspicious occasion for all Indians alike. It is the festival of lights and signifies the triumph of good over evil or light over darkness. Festivities begin by lighting lamps in homes and workplaces. And more importantly, the festival brings lots of customary sweets and snacks to enjoy.
This festive season, why not try some classic Diwali snacks, plant-based style.
1. Toasted Coconut Ladoos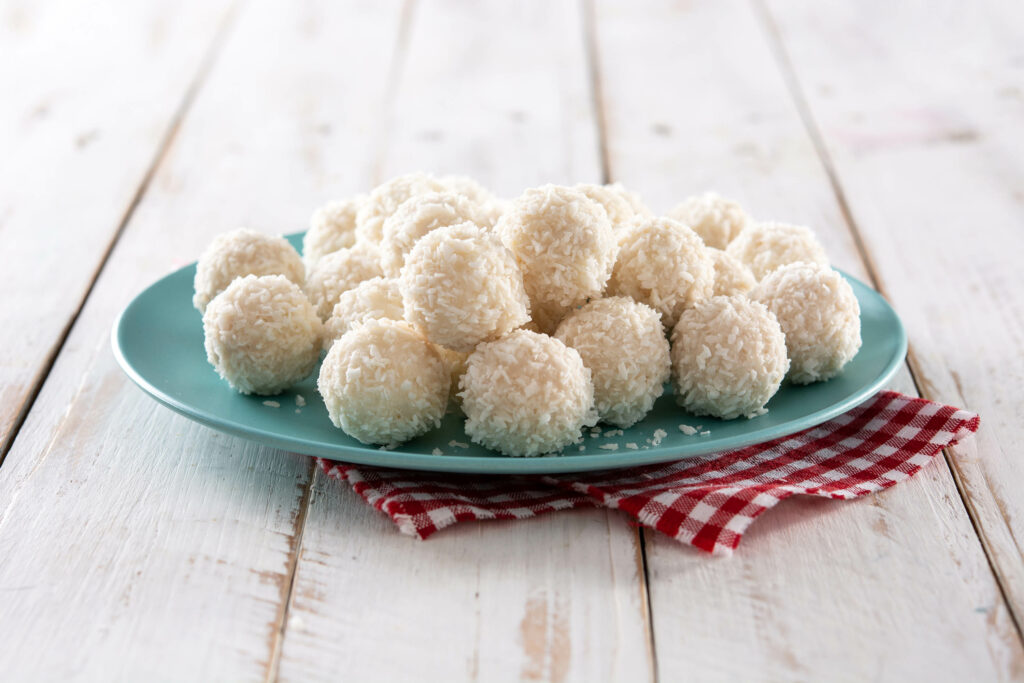 These delicious and healthy coconut balls are not just a delectable dessert but a great snack. You'll need a cup of dried or fresh shredded coconut, full fat coconut milk or cream, cardamom seeds, and vanilla flavoring. You'll also need raw sugar, coconut sugar or jaggery powder and a pinch of salt.
Pulse the coconut shreds in a blender for a few seconds till they are small but coarse. Crush cardamom seeds and set aside. Toast the coconut over medium low heat until it becomes golden and stir occasionally. Add coconut milk/cream and cardamom and cook for 2 mins. Add sugar and salt and cook over medium heat for 15 to 20 mins, until the mixture absorbs the liquid completely. Cool the mixture and shape them into bite-sized ladoos or balls. You can keep them refrigerated for up to a week. But they're so tasty, you might just finish them before that.
2. Besan Burfi or Chickpea Flour Fudge
Besan burfi is an indulgent but nutritious sweet that often graces festivities. You'll need chickpea flour or besan, thick almond milk or soy milk or any other plant-based milk, sugar or sweetener, refined coconut oil or vegan butter, cashew flour, and a pinch of salt. For flavoring, you can use ground cardamom, saffron, vanilla extract, and rose water.
Roast the besan/chickpea flour in oil over medium heat for 10 minutes till the mixture turns golden and smells nutty. Then, you need to make condensed non-dairy milk by heating plant-based milk, oil, and sugar over medium heat for 10 minutes. To this, add cashew flour, salt, and whisk in until the mixture thickens to look like condensed milk. Add cardamom and other flavoring. After this, add the roasted chickpea flour and mix into the condensed milk over medium low heat. Mix well. Once the mixture thickens, it will feel stiff and fall off the sides of the pan. You can add in chopped nuts and currants and mix in. You can add more sugar if you like it sweeter. Drop the mixture onto parchment paper and even it out using another parchment paper on top. Cut into pieces while still warm. Place chopped or slivered almonds or pistachios on each piece for garnish. Cool and store, or treat yourself to the delicious sweet right away.
3. Puffed Millet Namkeen or Trail Mix
This is a healthy take on savory trail mixes that you can munch on guilt-free at any time. You'll need to place puffed millet in a preheated oven at 250 degrees F and toast it for 12 to 15 mins.
In a wok, heat oil over medium heat, and add curry leaves and peanuts to it. Roast until peanuts turn golden brown. Then add raisins, sunflower seeds, or other nuts and seeds you like. Add curry powder, salt, sugar, and spices and mix well. Remove this from the heat and add toasted puffed millet. Stir gently so that the puffed millet is coated with spices and is distributed evenly. Cool it completely and store in airtight jar for up to 10 days. You can then enjoy this healthy but yummy snack as you please.
4. Crispy Murukku or Chakli
Murukku or chakli is a traditional, crispy snack that's enjoyed by one and all. You'll need rice flour, melted plant-based butter or oil, black sesame seeds, pepper powder, dry mango powder, and salt to taste.
Add rice flour, pepper powder, black sesame seeds, and salt in a bowl and mix well. Pour the melted vegan butter into the mix. Add water slowly to form soft dough and let it sit for 10 minutes. Then, heat oil in a frying pan. Add the dough to a piping bag or use a chakli maker to pipe long strands or spirals of the dough. Add the chakli pieces into the hot oil and deep fry them until they are golden brown on all sides. Place them on absorbent paper to soak excess oil and cool them down before eating and enjoy these crispy snacks.
5. Vegan Gujiya or Fried Dumplings
Gujiya is a Diwali must-have in all homes. It has a sweet coconut filling that is comforting and scrumptious. You'll need desiccated coconut, whole wheat flour, coconut and cashew butter, date paste, cardamom powder, and nutmeg powder for the dough. For the stuffing, you'll need cashews, almonds, pistachios, and dried date powder.
Take whole wheat flour, coconut butter, cashew butter, date paste, cardamom powder, and nutmeg powder and mix well. Add water and make soft dough. For the stuffing, roast cashews, almonds, and pistachios in a pan. Cool this and blend into a fine powder, add date powder and mix well.
Divide the gujiya dough into equal parts and shape them into balls. Flatten them and roll into discs. Place some stuffing in the centre of each disc. Apply water to the edges and fold in half. Press and pinch the sides to seal. Place the gujiyas in a preheated oven at 180˚C and bake for 15 to 20 minutes. Allow to cool slightly and dig into these little pockets of heaven.
As Diwali approaches, try these simple, mouth-watering delicacies. They don't require much preparation but they make festivities even more fun. Share this with your family and friends and have a Happy Diwali!
Pledge to try veg
Sign up to get great tips and recipes