Easy plant based recipes to try in lockdown
May 19th, 2021
If you are stuck at home due to the lockdown, it is important for you to take care of yourself and stay fit. After all, eating nutritious food and getting good rest will help you maintain your health, and boost your immune system. The best way to do this, while getting rid of your quarantine boredom, is cooking some delicious plant-based meals for you and your family.
Here are some quick, simple, and tasty plant-based recipes to keep you company during the lockdown.
Lentil and Chickpea stew
For this hearty recipe, begin with soaking some lentils and chickpeas in water. Heat some oil in a pan over medium heat. To that add one or more of your favourite spices such as cumin, coriander powder, asafoetida. Just as the spices begin to cook, add the lentils along with some water and cook until they soften slightly. To this add the chickpeas, and any other veggies you like, and season it with your favorite herbs and some salt. Pour it into a large bowl and have it with some bread or rice.
Cauliflower pilaf
This simple recipe begins in a similar fashion as the first one with oil heated over medium heat and spiced as per personal preference. To this, add cut up cauliflower and soaked rice. Add curry paste or spices to it and cook some more. Add stock/water, bay leaves, and cinnamon. Boil the cauliflower and rice and add seasoning. Once all the rice has fluffed up and cooked, garnish with coriander, and serve with chutney or stew.

Plantains Patties
Begin this wholesome recipe by boiling, peeling and mashing some plantains. To that, add cooked peas. Heat some oil in a pan over medium heat and add chilies, herbs, ginger, and spices until they soften and release their aroma. Add the spiced oil to the plantains along with some flour, lemon juice, and seasoning. Combine the mixture well and make palm-sized or burger-sized patties. You can chill these or directly shallow-fry them in a frying pan until they are crisp and golden. Serve these with chutney and enjoy them with your afternoon tea or coffee.
Scrambled tofu
This recipe is an easy breakfast option or can be had as a snack anytime during the day. Mash tofu with your hands into a pan. Add salt, turmeric, herbs, and spices. You may also add other vegetables like bell peppers to the pan for color and flavor. Cook this for a few minutes until the tofu is cooked and scrambled. Add fresh basil or coriander and season to taste. You can lay it on bread or just eat it as it is.
Peanut noodles
For this recipe, you will need cooked noodles. Add some oil to a heated wok and add vegetables of your choice like peppers, tomatoes, beans, and even tofu. Cook for a few minutes until the veggies become soft. Add spicy chilies and black pepper and cook some more. You can even add ginger as per your taste. Add some soy sauce, peanut butter, chili sauce, crushed peanuts, and sesame seeds to it and toss in the cooked noodles with the veggies. Enjoy a yummy bowlful of easy peanut noodles.
Granola snack
This recipe is a great in-between snack and can even substitute as dessert at times.
Mix peanut butter and non-dairy yoghurt (coconut or any other nut cream) in a bowl. Add ground almonds to it. To this, add oats, muesli, or granola, along with nuts, dried fruits, and berries. Completely coat the granola with the mixture. You can add maple syrup or chocolate to the mixture as per your preference. Now, make small bite-sized clusters of the mixture and place them on a tray. Freeze them for 30 minutes and enjoy these yummy, nutritious bites.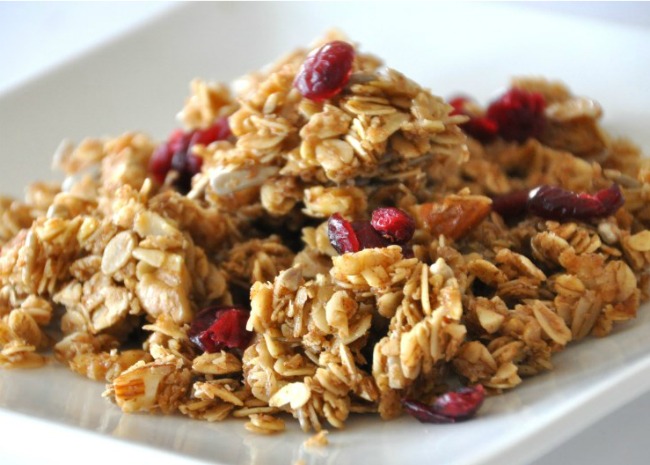 These simple, homely recipes can easily be made with the basic ingredients in your kitchen. So add some vegan goodness to your lockdown routine and make it a healthy quarantine!
Pledge to try veg
Sign up to get great tips and recipes