Divine delights for this Ganesh Chaturthi
Traditionally, Ganesh Chathurti involves elaborate rituals, decorations, and the preparation of various sweets and savories as offerings. As more people embrace a plant-based diet, it's the perfect opportunity to explore plant-based recipes that pay homage to this beloved festival. Here are three delectable recipes for Ganesh Chaturthi:
Modak:
Modak, sweet dumplings, are an integral part of Ganesh Chaturthi celebrations.
Ingredients:
1 cup rice flour
1 cup water
1/2 cup grated jaggery (or a vegan sweetener of your choice)
1/4 cup grated coconut
1/2 tsp cardamom powder
A pinch of salt
1 tsp coconut oil
Instructions:
In a pan, heat the water and add a pinch of salt and coconut oil.
Once it comes to a boil, lower the heat and add the rice flour. Stir continuously to form a smooth dough.
Remove from heat and allow the dough to cool slightly.
While the dough is still warm, knead it until it's soft and pliable.
In a separate pan, melt the jaggery on low heat, add grated coconut, and cardamom powder. Mix well.
Take small portions of the dough and flatten them with your fingers. Place a spoonful of the jaggery-coconut mixture in the center.
Carefully fold the dough to shape it like a modak, sealing the edges.
Steam the modaks for 10-12 minutes until they are cooked through.
Offer them to Lord Ganesha and enjoy this vegan delight.
Coconut Ladoo: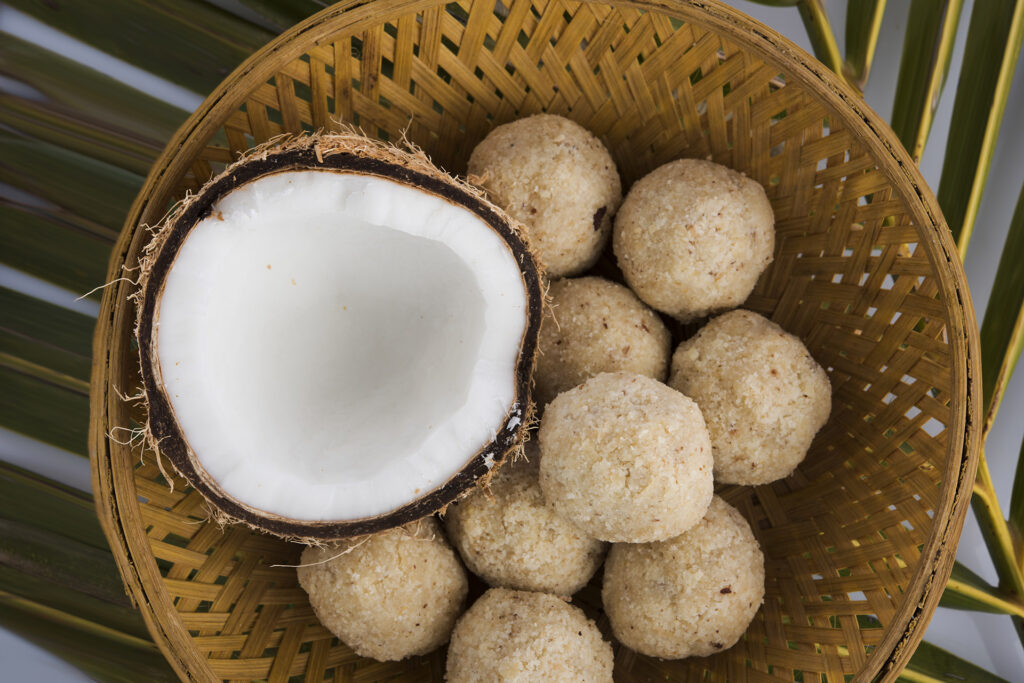 Coconut ladoos are another popular treat during Ganesh Chaturthi.
Ingredients:
2 cups shredded coconut
1 cup coconut milk
1 cup vegan condensed milk
1/2 tsp cardamom powder
A pinch of saffron strands (optional)
Vegan ghee for greasing your hands
Instructions:
In a pan, combine shredded coconut, coconut milk, and vegan condensed milk.
Cook the mixture on low heat, stirring continuously until it thickens and leaves the sides of the pan.
Add cardamom powder and saffron strands for flavor.
Remove from heat and allow the mixture to cool slightly.
Grease your hands with vegan ghee and shape the mixture into small round ladoos.
Place a saffron strand on top of each ladoo for garnish, if desired.
Let them cool completely and offer them as a sweet offering to Lord Ganesha.
Chana Sundal:
Chana Sundal is a savory snack often prepared as an offering during Ganesh Chaturthi. This plant-based version is protein-packed and bursting with flavor.
Ingredients:
2 cups cooked chickpeas (chana)
1 tbsp coconut oil
1 tsp mustard seeds
1 tsp urad dal (black gram dal)
1/2 cup grated coconut
2-3 green chilies, chopped
A few curry leaves
Salt to taste
1/2 tsp lemon juice
Instructions:
Heat coconut oil in a pan, add mustard seeds, urad dal, green chilies, and curry leaves.
When mustard seeds start to splutter, add cooked chickpeas and salt.
Stir-fry for a few minutes until the chickpeas are well-coated with the spices.
Add grated coconut and lemon juice, mix well, and cook for another couple of minutes.
Remove from heat and offer this delicious Chana Sundal to Lord Ganesha.
These recipes are not only delightful but also respectful of the principles of compassion and sustainability that many individuals choose to follow during Ganesh Chaturthi. Enjoy these delectable dishes as offerings and share them with your loved ones during this auspicious festival.
Pledge to try veg
Sign up to get great tips and recipes